Magnolia Farm & Apiary
Better bees, better honey®
Thank you for visiting Magnolia Farm & Apiary!
Our mission is simple: To provide only the best products and services. We pride ourselves in providing the highest quality products and personalized customer service, along with a customer-friendly experience that will keep our customers coming back. Our bees are our passion. "Their" honey is generally available during the summer and fall months (June-September). Local honey is quite popular. Thus, the demand is always greater than the availability. We participate in several local farmers markets and fairs. This information is posted on this site (Click on the "View Our Products and Services" tab below). Contact us and we'll arrange a scheduled pickup or delivery.
In addition to honey, we offer services such honeybee swarm capture. We also produce high quality orchard grass hay. In the future, we will expand our operations to include nucleus colonies ("nucs").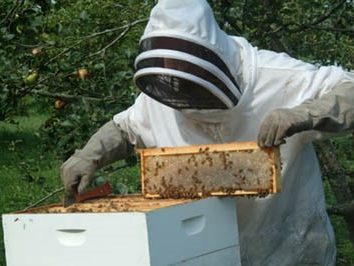 In 2014, I commenced laying the foundation for my long sought desire to become a beekeeper. As a senior executive for a large Federal department in Washington, DC, my decision to leave the workforce and become a beekeeper caught a number of individuals off guard. Nevertheless, with a talent for innovative and creative thinking; a natural eye towards business matters; and a desire to succeed, I moved forward and have not looked back with any regrets.
Beekeeping is truly a journey and not a destination. Becoming a successful beekeeper requires extreme determination, a humbling perspective, and the patience of Job. A fabulous sense of humor is an asset too (as you'll find yourself laughing at some of the things you do or some of the advice you receive). Unlike other professions, the odds of you becoming a "know-it-all" are remote at best. One size never fits all. And you are never in control – despite your best efforts. Sometimes the bees will let you think you're the boss or have figured "it" out. But in a tiny moment, they'll show you otherwise. Yet, this journey is filled with exceptional moments. And it's the exceptional – not the ordinary – that I find truly fulfilling.
"Beekeeping is truly a journey and not a destination."
My Beekeeping Adventure
the first Four years – a QUICK SUMMARY
My beekeeping journey officially started on February 14, 2015 – yes, Valentine's Day. This is the day I completed my first beekeeping course via the Loudoun Beekeepers Association. I highly recommend anyone considering or simply interested in beekeeping take an introductory beekeeping course. These courses typically provide critical insights for topics such as: honey bee biology and lifecycle; beekeeping equipment; bee health challenges; bee products; installing bee packages and nucleus colonies; and much more. A field session or day, including installing packages and nucleus colonies of honey bees, is typically included. At the conclusion of my course, I was given a mentor to guide me though my first year. He was and still is a valuable asset.
I struggled in my efforts to find the perfect sunny spot for my hives. The area selected was neither sheltered from the strong winds nor inside a fenced area. Nevertheless, on April 23, 2015, I installed three packages of bees. Two of the packages subsequently merged (not sure how or why). But with the assistance of my mentor, I successfully split the combined hives and purchased my first replacement queen.
All three hives made it through their first winter due in great part to adequate food supplies; wind breaks; and moisture abatement. I added three additional packages on April 11, 2016. This is also the day at least two of my first-year hives swarmed. Sadly, I failed to catch either of these swarms. On April 23, 2016, I caught my first swarm – a grapefruit size collection of bees that I thought wouldn't make it. However, they are now one of my most productive hives. On May 11, 2016, I installed my first "nuc". I lost one of my original hives due to a "laying worker" issue a few weeks later.
I carried seven hives into the 2016 winter, and each made it through winter. To keep the hives from swarming, I eventually made five splits, resulting in 12 hives in the late spring of 2017. Despite these challenges, we produced a significant quantity of honey.
Year 4 (2018) was a challenge to say the least. I carried nine hives into the 2017 winter, and six hives made it through winter. This was the first winter I suffered losses. However, I was fortune as average losses were nearly 60% for the State of Virginia. I made four splits and added four packages (new hives), resulting in 14 hives in spring. We experienced a wetter than normal spring, summer and fall, resulting in a reduction (30%) of my projected honey yield. We commenced sale of our honey in 2018 at the Community Foodworks' (CF), Oakton Farmers Market. We thoroughly enjoyed this experience and thank all of our customers for their support and feedback on our honey. My hives swarmed later than normal (August and September), weakening the mother hives at a critical time. I suffered a subsequent round of hive losses, and carried only 10 hives and 2 nucs into winter. It will truly be a miracle if the 2 nucs make it, given the size of their bee populations. And one of my hives is queenless. It too will require a miracle. I'm hopefully for a better 2019 and planning an expansion of my beekeeping activities. Lastly, we plan to participate in the CF market in the spring of 2019. See you there!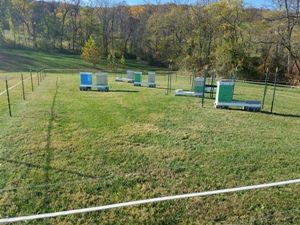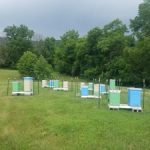 July 2018